<<>><<>><<>><<>><<>><<>><<>><<>><<>><<>><<>>
<<>><<>><<>><<>><<>><<>><<>><<>><<>><<>><<>>
VIEWS OF OUR ORGANIZATION
Page 1 &nbsp&nbsp Page 2&nbsp&nbspPage 3&nbsp&nbspPage 4 &nbsp&nbspPage 5


AKATAKSA "THIS, OUR PATH"
&nbsp&nbsp&nbsp&nbsp&nbsp "ESTE, NUESTRO CAMINO"
We are the guardians of Mother Earth...Pachamama...La Madre Tierra.
We come from uncounted generations of indigenous llama herding traders.
We are American Indians trying to survive in a world of inevitable changes.
We have a plan for protecting and improving our culture by sharing it with you.

Enjoy these photographs and please write us with your comments.

E-mail us at: &nbspAKATAKSA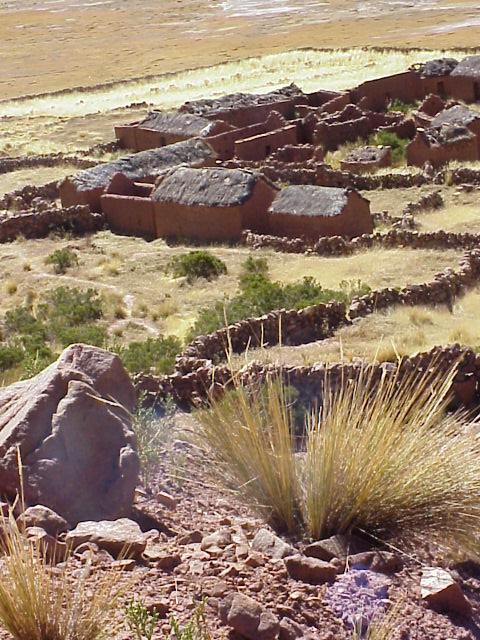 Old Cantuyo. We want to restore these houses as an outside museum. Interested in participating? Write us.
Cantuyo viejo. Queremos restaurar estas casas como un museo exterior. ¿Interesado en participar? Escr&iacutebanos.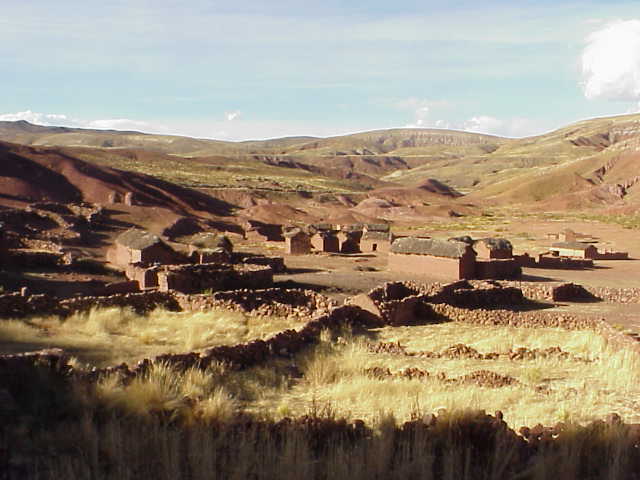 Vila Takana. One of our communities. Ten years ago, 200 people lived here. Today there are only eight permanent residents...and they're thinking of moving to a shanty town suburb near La Paz. Want to help us restore our culture? Show Yourself. Write us.
Vila Takana. Uno de nuestras comunidades. Hace diez a&ntildeos atras, 200 personas vivieron aqu&iacute. Actualmente hay solo ocho residentes permanentes... y ellos piensan en trasladar a un suburbio al margen de El Alto. ¿Quiere ayudarnos en la necesidad de restaurar nuestra cultura? Escr&iacutebanos.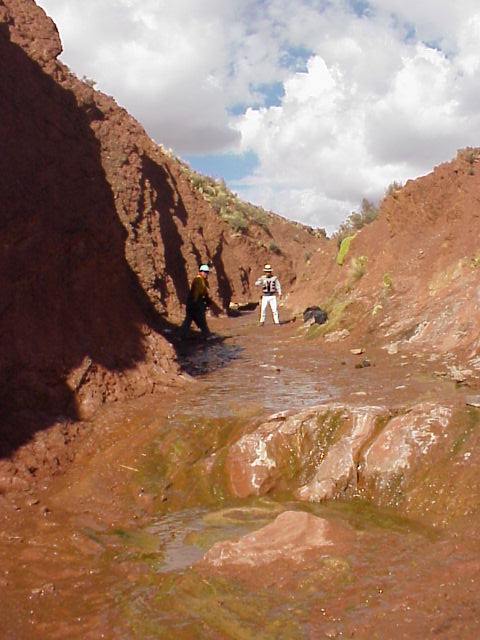 Spring fed drinking water. We need a water pump capable of pumping water 1 1/2 miles. Have one to donate or the money to buy one? Write us please. We need it now.
Agua potable de un vertiente. Necesitamos una bomba de agua con capacidad de bombear 5 kilometros. Si en sus manos esta la necesidad de podernos donar, escr&iacutebanos.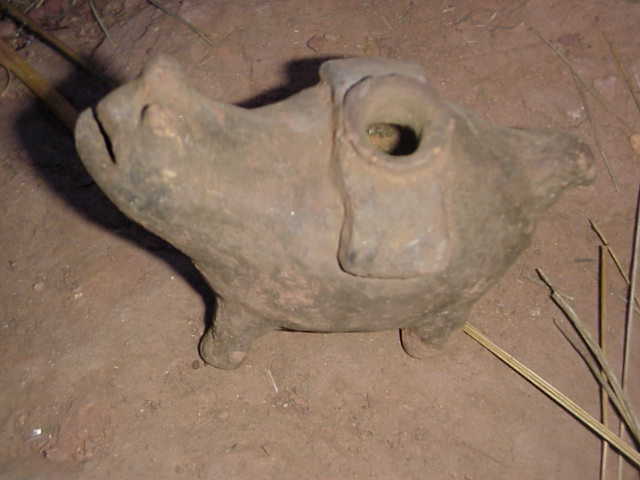 An old ceramic effigy found in one of our abandoned houses. We have started a project to rescue cultural objects for a future museum. Interested? Why not write us now?
Una figura cer&aacutemica vieja encontrado en una de nuestras casas abandonadas. Este objeto esta conservado para un proyecto de rescatar art&iacuteculos culturales para un museo que queremos construir. Si tiene inter&eacutes en participar, escr&iacutebanos ahorra.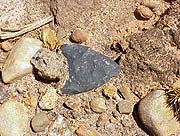 A 4500 year old projectile point in situ. We have recorded over 30 archaeological sites at Pilcomayo representing a 5% survey. Want to help us record more? Write us.
Una punta de lanza que tiene 4500 a&ntildeos en situ. Hemos registrado m&aacutes de 30 sitios arqueol&oacutegicos en el regi&oacuten de Pilcomayo. Esta representa una inspecci&oacuten del 5%. ¿Quiere Ud. participar para encontrar m&aacutes sitios? Escr&iacutebanos.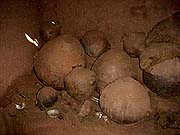 A corner of an abandoned house filled with antique chicha and cooking pots. Have an interest in being the first to document Aymara Indian material culture? Believe it or not, it's never been done.
En un rinc&oacuten de una casa abandonada lleno de ollas antiguas. ¿Tiene un inter&eacutes en ser uno de los primeros para documentar la cultura material Aymara? Cr&eacutealo o no, nunca se ha hecho. ¿Por qu&eacute no escribirnos ahora?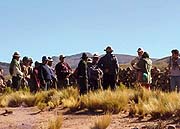 Blessing the grounds for our New Pilcomayo, a cultural resort aimed at rescuing, preserving and improving Andean culture.
Bendiciendo el lugar para nuestro Nuevo Pilcomayo, un sitio cultural que nos servir&aacute para rescatar, preservar y mejorar la cultura andina.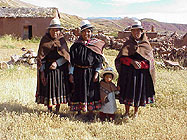 Three generations of Native American karveros (llama herders) at our own Cantuyo Marka. Patrista Llanque viuda de Condori to the left is 75 years young. She climbs at elevations between 14,000 and 16,000 feet everyday with her llama herd. Ayllu Manqha Kaballi, Qullasuyo (Bolivia).
Tres generaciones de nativos americanos karveros (pastores de llamas). A la izquierda, est&aacute Patrista Llanque viuda de Condori que tiene la edad de 75 a&ntildeos. Cada d&iacutea, ella sube con sus llamas las monta&ntildeas de 4200 a 5000 metros de altura. Ayllu Manqha Kaballi, Qullasuyo (Bolivia).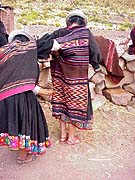 Preparing for the dance. Dancing is still an important cultural event at Pilcomayo. Would you like to visit us and participate? Or, would you like to invite us to your town?
Preparando para el baile. Bailar es todav&iacutea un evento cultural muy importante en Pilcomayo. ¿Apreciar&iacutea Ud. visitarnos y participar? ¿O, Ud. Apreciar&iacutea invitarnos a su pueblo?